-------- Archives ---------
Recent Hot Posts
*
Merchants of War
*
Financial Meltdown Survival
*
The Coming Financial Crash
*
Orwell Rolls In His Grave
*
American Social Elite History of Banking, Empire, War, & Profit
*
Remembering Ron Paul Champion of the Constitution
*
The True Face of Corporate and State Fascism
*
SPECIAL TREAT - Some Brass & Folk Bands From My Part of Europe
*
American Empire Decline & Rise of State Fascism
*
Under Bush and the CIA World Affairs Videos
*
Islam - From the Darkness To the Light
*
The Unseen Government National Debt Videos
War Videos
*
Videos: Terror War & Nation
*
Iraq Resistance - Battle Videos, Battle Reports
*
Videos:Frontline Iran Prelude to War
Bush Crime Family Videos
*
Under Bush and the CIA World Affairs Videos
*
Bush Crime Family Exposed
*
Bush Devil Videotapes
*
The Bush Propaganda Machine
*
Bush Smears, Lies, Videotape
*
Exposing the Bush Propaganda Machine
Society
*
Average Income Distribution USA Video
*
Blogging Heads Current Events Videos
*
Your Criminal Government Videos
*
End of the Republic Videos
*
Videos:Society In Crisis more ...
*
Global Corporate Slave Society Ahead
*
Veteran Health Budget Cuts & Fake Casualty Counts
Documentary Videos
*
European Cars Now Running On Air
*
Peace, Propaganda and the Promised Land Video
*
Crimes Against Iraqi Children Videos
*
Exposing the Terrorism - Globalism Conspiracy
*
Battle for America Has Begun Video
*
Banned by USA Central Command
*
The Future of War
*
American War Crimes In Iraq 1991-2005
*
Illuminati New World Order Videos
*
New World Order Prophecy Videos
*
On the Edge Videos
*
Hybrid Cars:The Next Industrial Revolution
*
Full Disclosure Videos
*
$100 A Barrel Oil?
*
Financing Permanent War
*
Opium, Heroin, CIA, Drug Wars & Profits
*
Iraq War Profits 1991-2005
*
War Is A Racket
*
Video/Audio:the Republican Satanic Rituals
Entertainment Videos
*
Hot Celebrity Videos
*
New Movie, Movie Mp3's & Comedy Videos
*
Laura Bush - the First Lady's First Dildo Video
*
World Movies, Music & Shows
*
Worldwide Entertainment Network
*
Internet Video Television Free
*
Videos:Hilarious, Weird, and Way Out X Rated
*
Hot Movie and Films To Go
*
Love and Sex Videos
*
Fun Videos Archive
*
Germans Do It Better Videos
*
Animals Are People 2
*
Geneva, Switzerland Auto Show 2006
*
Videos:Concept Cars
*
Instant Play Music Video Archives
*
Vintage Broadway Movies & Shows
*
Atlanta Black Women Swimsuit Videos
*
Videos that make you Laugh and Cry
*
Cool CHICAGO Rock
*
Sports Videos - Formula 1 Montecarlo 2006
*
Latest World News Video Reports
*
Movie Quickies Videos
*
Hollywood Movies Videos
*
Hi Tech News Videos
*
Top Music Videos
*
EurAsian TV Video Streams
*
Satanic Videos Films to Chill your Heart
*
Hilarious and Way Out Videos
*
Asian Party Girls Videos
*
Sexy Crazy Stupid Funny Videos of All Time
*
American Iraq War Protest Songs
*
Euro Jukebox
*
Monaco AutoShow 2005 Videos & Photos
pending
pending
pending
War Is A Racket
Thursday, April 20, 2006
... "WAR is a racket. It always has been.
It is possibly the oldest, easily the most profitable, surely the most vicious. It is the only one international in scope. It is the only one in which the profits are reckoned in dollars and the losses in lives.
A racket is best described, I believe, as something that is not what it seems to the majority of the people. Only a small "inside" group knows what it is about. It is conducted for the benefit of the very few, at the expense of the very many. Out of war a few people make huge fortunes.

In the World War [I] a mere handful garnered the profits of the conflict. At least 21,000 new millionaires and billionaires were made in the United States during the World War. That many admitted their huge blood gains in their income tax returns. How many other war millionaires falsified their tax returns no one knows.
How many of these war millionaires shouldered a rifle? How many of them dug a trench? How many of them knew what it meant to go hungry in a rat-infested dug-out? How many of them spent sleepless, frightened nights, ducking shells and shrapnel and machine gun bullets? How many of them parried a bayonet thrust of an enemy? How many of them were wounded or killed in battle?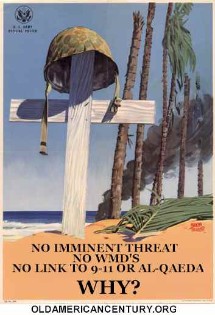 Out of war nations acquire additional territory, if they are victorious. They just take it. This newly acquired territory promptly is exploited by the few – the selfsame few who wrung dollars out of blood in the war. The general public shoulders the bill."
Read & Reference ....
*

War Is A Racket
War is just a racket. A racket is best described, I believe, as something that is not what it seems to the majority of people. Only a small inside group knows what it is about. It is conducted for the benefit of the very few at the expense of the masses.
I believe in adequate defense at the coastline and nothing else. If a nation comes over here to fight, then we'll fight. The trouble with America is that when the dollar only earns 6 percent over here, then it gets restless and goes overseas to get 100 percent. Then the flag follows the dollar and the soldiers follow the flag.
I wouldn't go to war again as I have done to protect some lousy investment of the bankers. There are only two things we should fight for. One is the defense of our homes and the other is the Bill of Rights. War for any other reason is simply a racket.
There isn't a trick in the racketeering bag that the military gang is blind to. It has its "finger men" to point out enemies, its "muscle men" to destroy enemies, its "brain men" to plan war preparations, and a "Big Boss" Super-Nationalistic-Capitalism.

It may seem odd for me, a military man to adopt such a comparison. Truthfulness compels me to. I spent thirty- three years and four months in active military service as a member of this country's most agile military force, the Marine Corps. I served in all commissioned ranks from Second Lieutenant to Major General. And during that period, I spent most of my time being a high class muscle- man for Big Business, for Wall Street and for the Bankers. In short, I was a racketeer, a gangster for capitalism.
I suspected I was just part of a racket at the time. Now I am sure of it. Like all the members of the military profession, I never had a thought of my own until I left the service. My mental faculties remained in suspended animation while I obeyed the orders of higher-ups. This is typical with everyone in the military service.
I helped make Mexico, especially Tampico, safe for American oil interests in 1914. I helped make Haiti and Cuba a decent place for the National City Bank boys to collect revenues in. I helped in the raping of half a dozen Central American republics for the benefits of Wall Street. The record of racketeering is long. I helped purify Nicaragua for the international banking house of Brown Brothers in 1909-1912 (where have I heard that name before?). I brought light to the Dominican Republic for American sugar interests in 1916. In China I helped to see to it that Standard Oil went its way unmolested.
During those years, I had, as the boys in the back room would say, a swell racket. Looking back on it, I feel that I could have given Al Capone a few hints. The best he could do was to operate his racket in three districts. I operated on three continents
Major General Smedley Butler, USMC 1933.
Reference ....
*

War Is Just A Racket
In the 1920's an insider secret became known to a few people. It was published in an exhaustive world resources survey book written by a renowned world-traveling geologist named Hoover, who later became a US President. Not many copies were printed and few people read the book. The secret was that one of the world's largest potential oil fields ran along the coast of the South China Sea right off French Indo-China, now known as Viet Nam.
The whole 20 year Viet Nam "war" from 1955 to 1975 was an oil scam. And all during the "war," Vietnamese General Giap fought the Americans with weapons he got from Laurence [Rockerfeller] for a dollar. Did you ever wonder why the US, despite, greatly superior weapons, and the loss of 57,000 Americans and half a million Vietnamese, never won the "war?" Ever wonder why the US President issued such strange "rules of engagement" for the American troops that made sure they didn't win? Ever wonder why Henry Kissinger, a personal assistant to Nelson Rockefeller spent so much time in the Viet Nam/Paris Peace talks which never went anywhere but simply dragged on for years. Maybe winning the "war" wasn't part of the plan of the Empire of Energy. Maybe the timing of the "war" was more important.
Marshall Douglas Smith
Reference ....
*

DOWN WITH MURDER INC.
The vagaries of U.S. involvement in the Middle East were surely brought home to First Lady Laura Bush on her recent trip to Israel, on a tour of Jerusalem's holiest sites. At the Wailing Wall, where she placed a note in the Western Wall ....
*

The Franklin Affair:A Spreading Treason




The War Prayer


by Mark Twain

It was a time of great exulting and excitement. The country was up in arms, the war was on, in every breast burned the holy fire of patriotism; the drums were beating, the bands playing, the toy pistols popping, the bunched firecrackers hissing and sputtering; on every hand and far down the receding and fading spread of roofs and balconies a fluttering wilderness of flags flashed in the sun; daily the young volunteers marched down the wide avenue gay and fine in their new uniforms, the proud fathers and mothers and sisters and sweethearts cheering them with voices choked with happy emotion as they swung by; nightly the packed mass meetings listened, panting, to patriot oratory which stirred the deepest depths of their hearts, and which they interrupted at briefest intervals with cyclones of applause, the tears running down their cheeks the while; in the churches the pastors preached devotion to flag and country, and invoked the God of Battles, beseeching His aid in our good cause in outpourings of fervid eloquence which moved every listener. It was indeed a glad and gracious time, and the half dozen rash spirits that ventured to disapprove of the war and cast doubt upon its righteousness straight way got such a stern and angry warning that for their personal safety's sake they quickly shrank out of sight and offended no more in that way.


Sunday morning came – next day the battalions would leave for the front; the church was filled; the volunteers were there, their young faces alight with martial dreams – visions of the stern advance, the gathering momentum, the rushing charge, the flashing sabers, the flight of the foe, the tumult, the enveloping smoke, the fierce pursuit, the surrender! – then home from the war, bronzed heroes, welcomed, adored, submerged in golden seas of glory! With the volunteers sat their dear ones, proud, happy, and envied by the neighbors and friends who had no sons and brothers to send forth to the field of honor, there to win for the flag, or failing, die the noblest of noble deaths. The service proceeded; a war chapter from the Old Testament was read; the first prayer was said; it was followed by an organ burst that shook the building, and with one impulse the house rose, with glowing eyes and beating hearts, and poured out that tremendous invocation:

"God the all-terrible! Thou who ordainest, Thunder thy clarion and lightning thy sword!"


Then came the "long" prayer. None could remember the like of it for passionate pleading and moving and beautiful language. The burden of its supplication was, that an ever-merciful and benignant Father of us all would watch over our noble young soldiers, and aid, comfort, and encourage them in their patriotic work; bless them, shield them in the day of battle and the hour of peril, bear them in His mighty hand, make them strong and confident, invincible in the bloody onset; help them to crush the foe, grant to them and to their flag and country imperishable honor and glory – An aged stranger entered and moved with slow and noiseless step up the main aisle, his eyes fixed upon the minister, his long body clothed in a robe that reached to his feet, his head bare, his white hair descending in a frothy cataract to his shoulders, his seamy face unnaturally pale, pale even to ghastliness. With all eyes following and wondering, he made his silent way; without pausing, he ascended to the preacher's side and stood there, waiting. With shut lids the preacher, unconscious of his presence, continued his moving prayer, and at last finished it with the words, uttered in fervent appeal, "Bless our arms, grant us victory, O Lord our God, Father and Protector of our land and flag!"


The stranger touched his arm, motioned him to step aside – which the startled minister did – and took his place. During some moments he surveyed the spellbound audience with solemn eyes, in which burned an uncanny light; then in a deep voice he said:

"I come from the Throne – bearing a message from Almighty God!" The words smote the house with a shock; if the stranger perceived it he gave no attention. "He has heard the prayer of His servant your shepherd, and will grant it if such be your desire after I, His messenger, shall have explained to you its import – that is to say, its full import. For it is like unto many of the prayers of men, in that it asks for more than he who utters it is aware of – except he pause and think.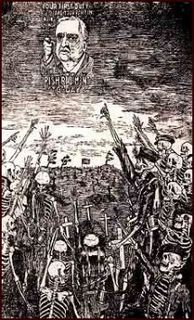 "God's servant and yours has prayed his prayer. Has he paused and taken thought? Is it one prayer? No, it is two – one uttered, the other not. Both have reached the ear of Him Who heareth all supplications, the spoken and the unspoken. Ponder this – keep it in mind. If you would beseech a blessing upon yourself, beware! lest without intent you invoke a curse upon a neighbor at the same time. If you pray for the blessing of rain upon your crop which needs it, by that act you are possibly praying for a curse upon some neighbor's crop which may not need rain and can be injured by it.


"You have heard your servant's prayer – the uttered part of it. I am commissioned of God to put into words the other part of it – that part which the pastor – and also you in your hearts – fervently prayed silently. And ignorantly and unthinkingly? God grant that it was so! You heard these words: 'Grant us victory, O Lord our God!' That is sufficient. The whole of the uttered prayer is compact into those pregnant words. Elaborations were not necessary. When you have prayed for victory you have prayed for many unmentioned results which follow victory – must follow it, cannot help but follow it. Upon the listening spirit of God the Father fell also the unspoken part of the prayer. He commandeth me to put it into words. Listen!

"O Lord our Father, our young patriots, idols of our hearts, go forth to battle – be Thou near them! With them – in spirit – we also go forth from the sweet peace of our beloved firesides to smite the foe. O Lord our God, help us to tear their soldiers to bloody shreds with our shells; help us to cover their smiling fields with the pale forms of their patriot dead; help us to drown the thunder of the guns with shrieks of their wounded, writhing in pain; help us to lay waste their humble homes with hurricanes of fire; help us to wring the hearts of their unoffending widows with unavailing grief; help us to turn them out roofless with their little children to wander unfriended the wastes of their desolated land in rags and hunger and thirst, sports of the sun flames of summer and the icy winds of winter, broken in spirit, worn with travail, imploring Thee for the refuge of the grave and denied it – for our sakes who adore Thee, Lord, blast their hopes, blight their lives, protract their bitter pilgrimage, make heavy their steps, water their way with tears, stain the white snow with the blood of their wounded feet! We ask it, in the spirit of love, of Him Who is the Source of Love, and Who is the ever-faithful refuge and friend of all that are sore beset and seek His aid with humble and contrite hearts. Amen."


[After a pause.] "Ye have prayed it; if ye still desire it, speak! The messenger of the Most High waits."

It was believed afterward that the man was a lunatic, because there was no sense in what he said.

The 'Ism' at the Gate
If you look at the past 100 years or so, you will see plainly that there has always been an "ism" at the gates.

The old idea of controlling the people and increasing government power by warning of an "enemy at the gates" dates back to the Roman Empire, and probably well before that. It is among those tactics that are obvious to any dishonest person coveting power.
*

The Ism at the Gate
*

the Deliberate Dumbing Down of America
posted by EuroYank - Virginia Hoge @ 1:39 AM

|
About Me
Name: EuroYank - Virginia Hoge
Home: United States
About Me: Euro Yank is an internationally famous blogger, an American born in Germany that left for the USA with family at age six and has lived in Luxembourg for the past ten years. He is a committed anti-fascist and a student of history who is politically progressive and believes in the ideals of the American Constitution and the Bill of Rights for all Americans. He is also an American war veteran. He was active on American Talk Radio, and has been prominent online with 26 blogs with over 25 million hits. His investigative journalism has exposed top international news stories no one else has reported on. He is also a well-known political commentator. He has been repeatedly censored and banned, but despite these setback continues nonstop. Virginia Olive Hoge is an artist and writer living in Pasadena, California. As a progressive whistle-blower, she conducts investigations into corrupt media and outs the harm it causes to the poor and important social services. She is has been conducting an 11-month investigation of Topix.com, she is the first one in the nation to do so.
See my complete profile
E-Mail
Previous Posts
Archives
Stats
EuroYank Blogs
Links
Powered by